Ambassador to China: a Danish education is a good investment
On October 22-23, Fudan and Peking University turned into a little piece of Denmark with the largest ever Danish education and career fair in China: Denmark Day

On October 22-23, the largest ever Danish education and career fair in China - Denmark Day - was held at Fudan and Peking University.
With seven Danish universities joining forces with nine of Denmark's largest China-based companies, the event showcased Danish excellence across academia and industry and invited Chinese students to establish contact with selective Danish companies and universities.
See video from the event at ChinaDaily.com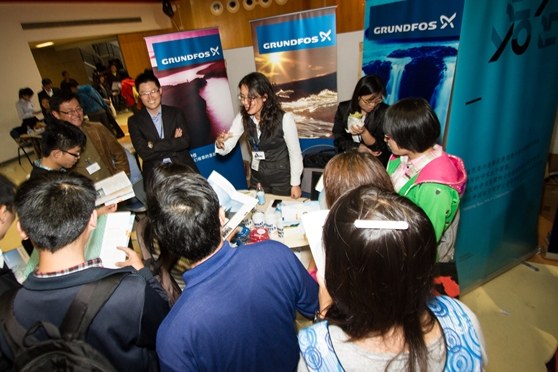 Denmark Day was hosted by two of China's top universities, Fudan University and Peking University. The doors were open to students from all universities in Shanghai and Beijing.
Danish Ambassador: A Danish education is a good investment
Denmark Day offered the participating Chinese students a taste of Denmark and of the unique opportunities for combining a world-class education in Denmark with in-the-job training and career opportunities in internationally recognised Danish companies. The Danish ambassador to China, Mr. Friis Arne Petersen, opened the event and made it clear to Chinese students why a Danish education is a good investment in their future career:
"By studying in Denmark you acquire new skills and qualifications that are of great value when starting your career. You improve your employability -  your chance of getting the job of your dreams. In short, a Danish university education is an investment in your future. Dear students, the Danish companies and universities are here for you, to provide you with knowledge and information you need - and to answer your questions".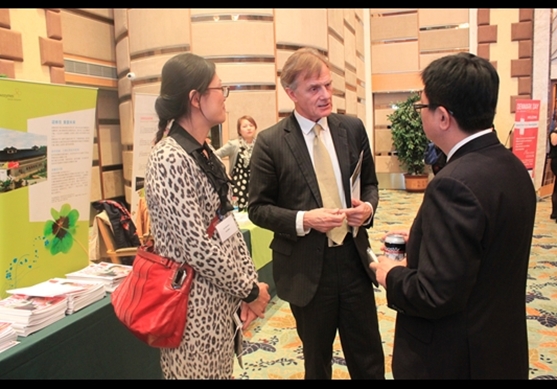 Danish ambassador Friis Arne Petersen (middle) talking to Li Yansong, vicepresident for Peking University (right).
About Denmark Day and Sino-Danish Network
The career and education fair Denmark Day was organized by the Innovation Centre Denmark, Shanghai as part of the Sino-Danish Network. The network has since October 2011 campaigned to highlight areer and educational opportunities for Chinese students and academics at Danish companies and universities. Read more about Denmark Day on the official Sino-Danish network website.
Published: 26.10.2012