Denmark a top choice for BioBusiness education
A new interdisciplinary Master in bioentrepreneurship draws on leading expertise and consolidates Denmark's position as a top choice for aspiring biotech entrepreneurs

Denmark is a leader in biotech innovation with great potential for commercialization. A new interdisciplinary 2-year master programme in bioentrepreneurship is to reap this potential.
Become an expert in commercializing biotech innovation
Based on teaching across biotechnology and business, the new master programme is a unique opportunity for students who want a thorough understanding of how to commercialize biotech innovation. Harvard University in the U.S. is currently the only other university that offers a similar interdisciplinary programme.
Professor and Program Director of the new BioBusiness & Innovation Programme (BBIP), Finn Valentin explains that the programme enables students to combine knowledge across science and business in order to identify commercial opportunities. These are highly sought after skills among companies.
"The BBIP master programme provides the competences needed in the various stages from bio-innovations to commercialization. These competencies are critical for start-up entrepreneurs as well as for those providing the framework for entrepreneurship, such as venture capital", says Finn Valentin.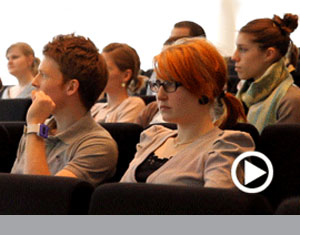 Teaching by industry leaders
The new master programme has been developed in close collaboration with major Danish biotech companies, such as LEO Pharma, Novozymes, Coloplast, Symphogen and Zealand Pharma as well as the Novo Nordisk Foundation and the Lundbeck Foundation. The companies support the programme financially and provide lecturers and internships.
The programme is a further development of the elective course in BioBusiness and Innovation, offered by Copenhagen Business School (CBS) in collaboration with the Department of Systems Biology at the Technical University of Denmark (DTU)

Watch the video above about the 2-year master programme
----------------------
About the BioBusiness & Innovation Programme

The programme is a collaboration between CBS, the University of Copenhagen and the Technical University of Denmark
The new two-year master's programme begins in September 2012. The application deadline is August 10th 2012 at 10:00
The programme ends with a three-month internship in a Danish life-science company
The programme has found inspiration in both USA and Sweden
Read more about the new programme at www.cbs.dk/bbip