One of the world's most powerful particle accelerators inaugurated in Denmark
A new state of the art particle accelerator is now ready for use at Aarhus University. The accelerator marks a quantum leap in the exploration of life's smallest building blocks

The Department of Physics and Astronomy at Aarhus University now holds one of the world's most powerful particle accelerators. On September 10, the new accelerator ASTRID 2 (following its predecessor ASTRID1) was showcased to the world.
A quantum leap in the exploration of the molecular world
ASTRID2 marks a quantum leap for Danish and international students and researchers in terms of their opportunity to obtain new knowledge about the smallest and most fundamental of life's building blocks. The accelerator can accelerate particles to near the speed of light along its 46 meter long cylinders, hereby producing super intense shortwave light (radiation) which can be used to analyze everything from biological systems to connections on atomic scale.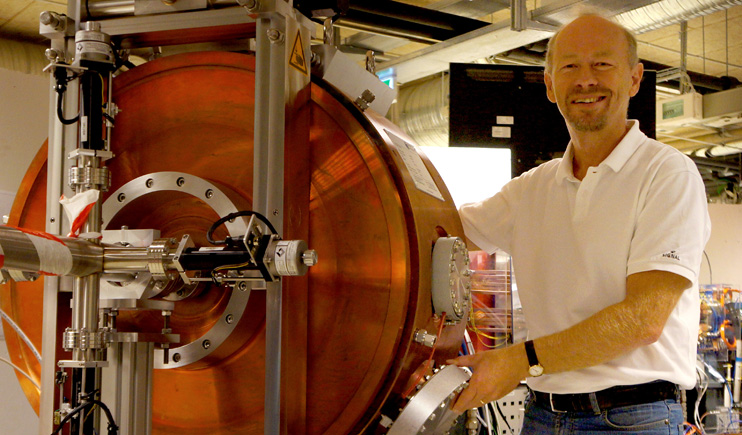 Center Director Søren Pape Møller next to ASTRID2 which will enable Danish and international researchers to gain new insights into the molecular world. (Photo: Rasmus Rørbæk)
"With our knowledge regarding the construction and development of accelerators like ASTRID2, we will be an essential partner in the R&D of radiation therapy and treatment of cancer patients", says Søren Pape Møller, Center Director of the Storage Ring Facilities at Aarhus University:
The knowledge obtained from building the accelerator and the accumulated expertize at Aarhus University can be transferred to other areas of health research, explains Søren Pape Møller.