Denmark the most climate-friendly country
New UN report shows that Denmark has the most climate-friendly policies in the world

Denmark is currently the most climate-friendly country the world, with the most efficient policies to reduce greenhouse gas emissions and prevent climate-change. This is the verdict of the United Nations' Climate Change Performance Index 2013.
Denmark achieves 72.61 points out of a possible 100 points for its climate efforts. Sweden in second place gets 69.37, while Portugal in third place gets 67.81. The report also shows that no country is doing enough to prevent climate-change and thus no country makes it to the top three.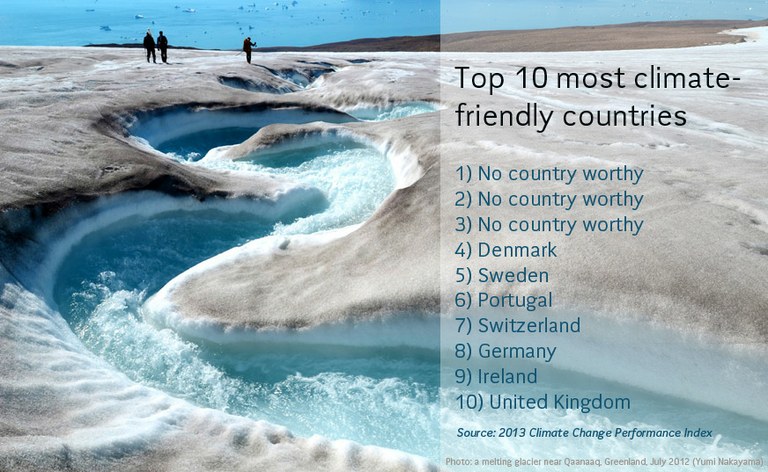 Source: 2013 Climate Change Performance Index (pfd)
Reducing greenhouse gases
The Climate Change Performance Index is prepared by the Climate Network Europe and the organization German Watch and is based mainly on figures for 2010. The report shows what different countries are doing politically to reduce CO2 emissions, focusing on renewable energy and energy efficiency. Denmark performs well, especially because it has made a positive effort to reduce greenhouse gas emissions, concludes the report.
Global overview shows room for improvement
While the report praises Denmark, it also shows that Denmark could be utilizing energy more efficiently in comparison to some other countries. Thus, the Climate Change Performance Index provides a comprehensive overview of CO2 emissions and where action should be taken to improve global and national climate polities.
Denmark - a top choice for environmental education
Thirty years of focused energy policy has placed Denmark at the forefront in the development and use of renewable energy, such as biofuels, wind, wave and solar power. For this reason Denmark is an excellent choice for international students and young researchers looking for world-class programmes in the field.

Published: 03.12.2012