Work after graduation
Here is what you need to know if you would like to work in Denmark after you graduate
Denmark offers a wide variety of possibilities for working after graduation. Whether you are strictly focused on advancing your career or want to find the right balance between work and life the Danish jobmarket will have opportunities for you. Which field do you want to pursue a career in?

Which career would you like to pursue after studying? We asked 19 international students. Find out more in our video section.
Here's how different nationalities can go about their Danish post-graduation job-hunt:
Nordic citizens of Finland, Iceland, Norway and Sweden are free to enter, reside, study and work in Denmark. Neither visas nor residence or work permits are required.
EU/EEA/Swiss citizens do not need to apply for a work permit. You may stay in Denmark under the EU rules regarding the free movement of people and services. But if you want to stay for longer than three months, you must apply for a registration certificate under EU rules. The application must be submitted within three months of entering Denmark. Please note: the special interim arrangement concerning employees from Bulgaria, the Czech Republic, Estonia, Hungary, Latvia, Lithuania, Poland, Romania, Slovakia and Slovenia ended on 1 May 2009.
Non-EU/EEA/Swiss citizens will need a residence permit to work in Denmark. Upon graduation from a Danish higher education institution, your residence permit will remain valid for an additional six months, allowing you to seek employment in Denmark. Provided your visa hasn't already been extended for an extra six months you can apply for such an extension to your permit. For further information on how to extend your residence permit, please visit: http://www.nyidanmark.dk/en-us/coming_to_dk/studies/extension.htm
As a service for jobseekers, some educational institutions offer alumni networks to their graduates. These represent a valuable source of information regarding.
Starting up your own business in Denmark
As an international graduate from a Danish higher education institution you may of course also want to explore the opportunity of starting up your own business. For this purpose you can have a look at this step-by-step guide on how to start up a business in Denmark.
Unemployment benefits if you don't find job after graduation (A-kasse)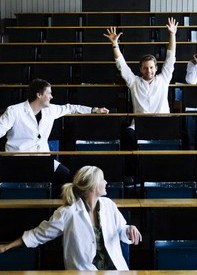 If you do not immediately have a job after finishing your education you may be entitled to receive unemployment benefits according to the special favourable conditions for graduates.
This requires that you apply for admission into an unemployment insurance fund (in danish "A-kasse") at latest two weeks after your date of graduation.
However, your right to unemployment benefits is depending on that you have legally right to stay in Denmark, and also you must be able to accept job offer with one day's notice.
Citizens from another EU-/EEA country have these rights according to the EU legislation.
Citizens from non EU-/EEA countries need a residence and work permit that gives right to work FULL time. The student residence permit also include a residence permit for 6 additional months after the end of the study. But study residence permit does not entitle you to receive unemployment benefits during the job search period. To be relevant for non EU-/EEA citizens to consider to pay for A-kasse membership you need a residence and work permit of another type.
You can read more about Unemployment Insurance Funds ("A-kasser") and the requirements for graduates for being eligible for benefits on the website www.a-kasser.dk.
From A-kasser.dk you can get answers to your questions for free and A-kasser.dk also has a list that compares prices of all Danish unemployment insurance funds. 
Danish jobportals in English 
Other useful links